If a picture is worth a thousand words, imagine how much a virtual tour is worth.
At Visualizeit we are dedicated to provide our customers with complete and unique set of digital assets that will differentiate your brand and boost online visibility bringing new prospects and increasing sales. Most importantly, our knowledge and expertise combined with cutting edge Matterport technology allow us to create highly polished fully immersive user friendly true 3D virtual tour experience for any kind of business or service.
Create experiences like nothing you've ever seen before. Digitize and view your space from multiple angles, build functionality on top of it, get accurate measurements, and more. With a single scan, you get 3D walk-throughs, 4K print quality photos, schematic floor plans, OBJ files, point clouds, videos, and other media.
Showcase your business and invite potential customers to take a virtual tour of your store, car dealership restaurant or office! Using Google Business View gives you a competitive advantage when it comes to getting your business in from 80% of consumers who begin their search for local services on Google.
Walk Through video generated from your Matterport 3D virtual tour adds even more value and is the best way to catch viewers attention throughout social media campaigns and advertising. They are short videos, usually 1-2 minutes, that quickly engage viewers and invite them to explore property listing in depth.
Professional black-and-white floor plans, quickly and easily generated from any Matterport 3D tour. While sellers are wowed by by the immersive virtual tour, they still expect you to use traditional marketing methods like floor plans. No need to hire an additional firm or return to the property to take measurements.
Your clients will love dedicated single page website for their property which helps to get more eyes on the listing, bringing more offers at higher price. Show your prospects how you add value to the listings and stand out with creative visual marketing. Gain social media love and build buzz around your listings.
MATTERPORT POWERFUL FEATURES
DOLLHOUSE VIEW
Dollhouse view gives a really great sense of the space and full perspective of the property. You can experience whole place from above and rotate around it or select each floor separately.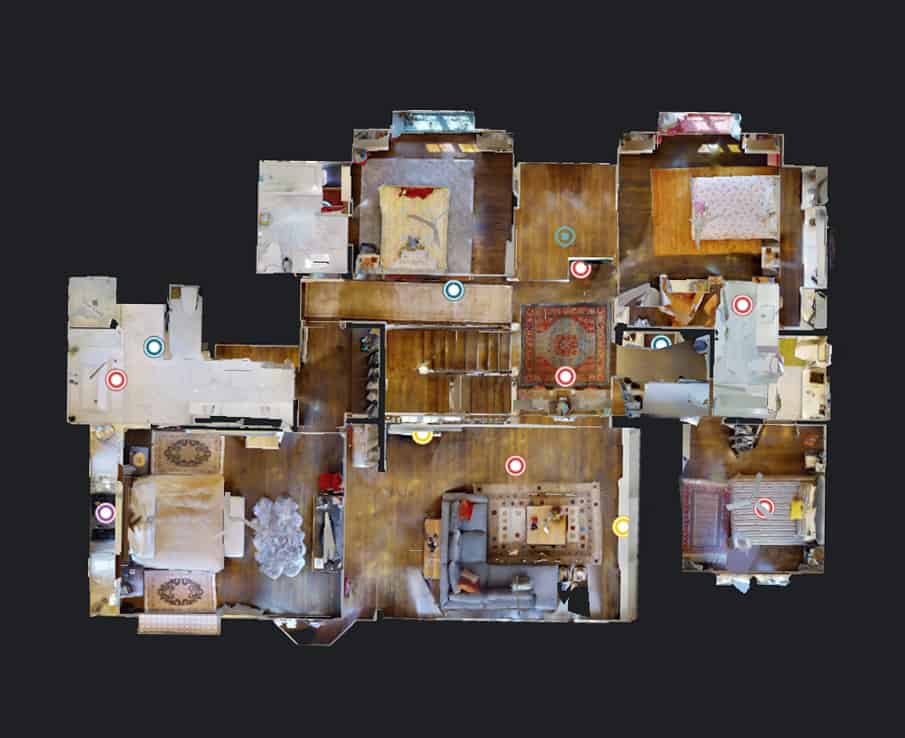 FLOOR PLAN VIEW
A top down view of the property to gain a better understanding of each floor's layout. Great add-on that you also get an actual schematic floor plan with measurements generated from this.
MEASUREMENTS
This handy feature allows any viewer to measure objects and distances within Matterport 3D Virtual Tour space. This can be helpful in countless situations for both residential and commercial properties.
MATTERTAGS
Give context to space and describe features you want to highlight as a selling point. Embed text, images, videos or links for communicating with home buyers, business clients or customers.
SHARE YOUR MATTERPORT 3D TOUR
EMBED TO YOUR WEBSITE
SHARE THROUGHOUT SOCIAL MEDIA
UPLOAD TO GOOGLE STREET VIEW
WATCH FROM ANY DEVICE
VIRTUAL REALITY COMPATIBLE
INDUSTRIES THAT USE MATTERPORT 3D TOUR
BOOK
It is more convenient than ever. Simply choose service your are interested in and book date and time that works best for you.
PHOTOGRAPHY
Our capture expert will perform a series of scans around your property to ensure that you get a flawless virtual tour in the end.
DELIVERY
The turn-around time is usually 48 hours for average size properties but may be longer depending on the project.
DISPLAY
Embed your virtual tour to website or real estate listing, share across social media or explore on Google Street View.