Matterport for real estate
Stand out in the marketplace, win more listings and sell homes faster with Matterport 3D Virtual Tours that are most cost-effective marketing solution.
The real estate marketplace is changing. Now more than ever, you have to show buyers and sellers how do you set yourself apart and how do you add value to your listings. In rapidly evolving landscape, how do you leverage new technology for a successful marketing campaign? 90% of home buyers right now are aged 35 and younger. These first time home buyers are used to using new technology and comfortable doing their research online prior to any agent outreach, so it is crucial to catch their attention right there by leveraging newer technology.
more likely to call about listing with Matterport 3D Virtual Tour
of agents using Matterport 3D virtual tours win more listings
of agents are more competitive because of Matterport
of agents agree it helps them build a stronger brand
less time property spend on the market
DOLLHOUSE VIEW
Dollhouse view gives you really good sense of the space and full perspective of the property. You can experience whole place from above and rotate around it or select each floor separately.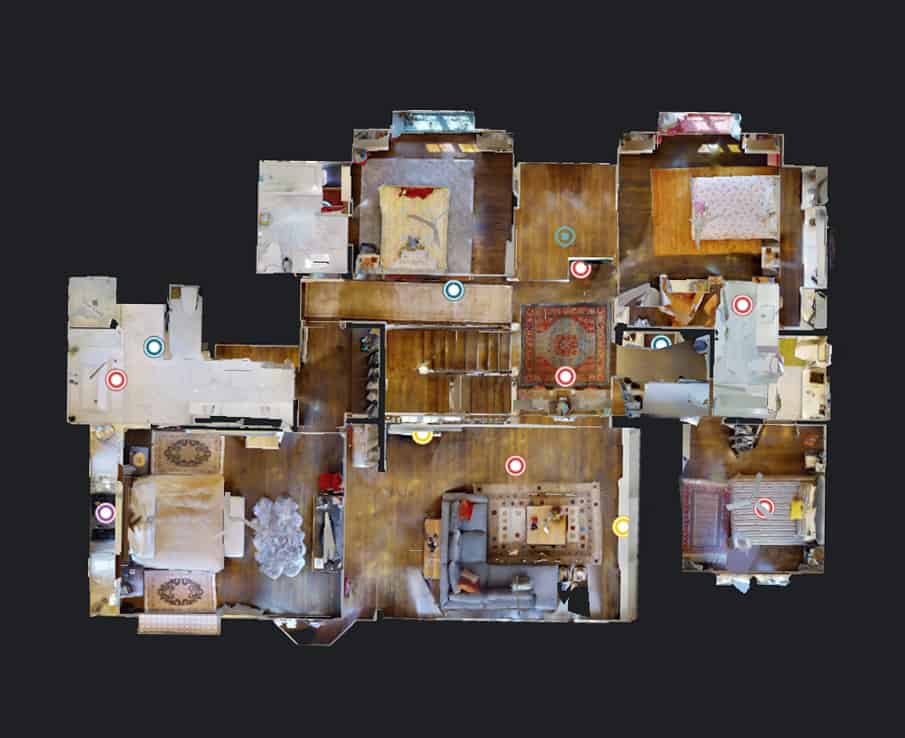 FLOOR PLAN VIEW
A top down view of the property to gain a better understanding of each floor's layout. Great add-on that you also get an actual schematic floor plan with measurements generated from this.
MEASUREMENTS
This handy feature allows any viewer to measure objects and rooms within 3D Virtual Tour space. This can be helpful in countless situations for both residential and commercial properties.
MATTERTAGS
Give context to space and describe features you want to highlight as a selling point. Embed text, images, videos or links for communicating with home buyers, business clients or customers.
We provide a set of interior and exterior 2D snapshots captured and extracted from within your Matterport 3D Tour. Images are high resolution and wide angle JPG files ready for MLS.  Usually we provide somewhere between 30-50 snapshots that cover main and most interesting parts of the house, as well as outside views when weather allows .
NOTE: We provide 2D snapshots only for common areas and enough to showcase property flow. We do not provide 2D snapshots for bathrooms and other tight places unless you mention it to the photographer before property shoot. Outside views are weather permitting.
When sellers are already woved by the immersive Matterport 3D Virtual Tour, they are still expecting that you to use traditional marketing methods like the floor plans. Buyers ( and especially homeowners ) have come to depend on floor plans to visualize the space. Floor plans are also great for offline use or print materials. That is why we include them free of charge with all of our real estate Matterport 3D Virtual tours, so you can enhance your marketing and add even more value.
NOTE: Black and white schematic floor plans include both metric and imperial room measurements. We provide PNG and PDF file for each floor and all floors combined. Measurements are accurate to 1 to 2% of reality. Rooms on the property that are not scanned will not be included in the area calculation on the floor plan.
Property report is a PDF file that includes links and embed codes for your Matterport 3D Virtual Tour. Here you will also find area calculations for each floor as well as  total RMS  footage of the property. For your convenience all measurements provided both in metric and imperial systems. 
NOTE: Measurements are acquired using Materport Pro 2 laser camera for the interior area which are than extrapolated to include the thickness of the exterior walls recorded with a tape measure according to RMS regulations for extrapolating exterior measurements.
MATTERPORT WALK THROUGH VIDEO
Matterport walk through video generated from your 3D Virtual Tour adds even more value and is the best way to catch viewer's attention throughout social media campaigns and advertising. They are short videos, usually 1-2 minutes, that quickly engage viewers and invite them to explore property listing in depth. Plus it is a great way to have a permanent copy of your Matterport 3D Tour so you can show it to your potential customers anytime from anywhere.  Matterport walk through videos are extra add-on option for your 3D Virtual tour package and come for the small fee of $100. 
422 52328 RR 233, Sherwood Park
NOTE: Matterport walk through video is an extra add-on, there is an additional fee of $100 for it.
Matterpot for real estate starting only at $199
FREQUENTLY ASKED QUESTIONS